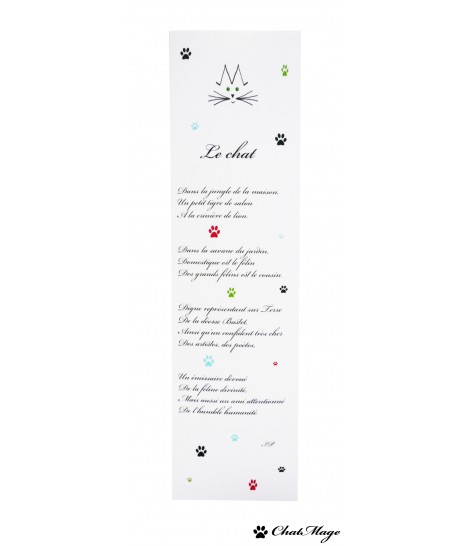 Bookmark, cat bookmark, stationery, poem bookmark, poetry, french stationery, ChatMage
8-2014-05-PA-8-2-4
New
Warning: Last items in stock!
Availability date: 0000-00-00
Bookmark printed on FSC-certified paper and with vegetable inks by a printing works labeled Imprim'Vert and ISO 14001 certified.
Dimensions (H x L) : 5.5 x 20 cm
The front and / or back of bookmarks are written in French as you can see from the pictures of the item.
I translate the poem to give you an idea of the text on the bookmark.
The cat
In the jungle of the house,
A small living room tiger
With a lion's mane.
In the savanna of the garden,
Domestic is the feline
The cousin of big felines.
Worthy representative on Earth
Of the goddess Bastet,
Just as a very dear confidant
Of artists, of poets,
A devoted emissary
Of the feline deity,
But also an attentive friend
Of humble humanity.
I.P
Gift Idea :
A note written on the back of the bookmark and the thought will accompany the person to whom you may have offered throughout her readings.
Price does not include shipping costs. They are to be paid extra and depend on items ordered and the country of destination. For more information on delivery, you can read the corresponding page in the "Information" block to the left or click here .